In a recently published article (link), titled "FDA Q&A: Generic Versions of Narrow Therapeutic Index Drugs National Survey of Pharmacists' Substitution Beliefs and Practices" by a Senior Science Advisor, responding to a question regarding concerns expressed in a recently published book, the author of the article claims that "…Americans can be confident in the quality of the products the FDA approves."
It is to be noted that the claim made by the FDA cannot be considered truthful and/or scientifically valid. The reason being that at present quality of the products, in particular tablet and capsule, has not be defined, thus cannot be measured or established. Furthermore, meeting compliance requirements as a substitute of "quality", which in most cases are arbitrary, lacks validation of the suggested methods and/or procedures (both in vitro and in vivo) for their relevancy and accuracy for their intended purpose or claims (link).
It is, therefore, requested that the FDA should reconsider its claims and approaches for declaring products of having quality, and by extension safe and efficacious.
Response to a recent query
I am sorry I cannot be of help because in my view, based on 30 years of research experience, as stated frequently, currently recommended and used dissolution testers  (USP Paddle/Basket) are non-validated testers for the intended purpose thus cannot provide relevant dissolution methods and/or results for any product. Furthermore developing a discriminating dissolution test, often promoted and suggested as regulatory/pharmacopeial requirement, is a scientifically flawed or invalid concept. A properly developed dissolution test by default becomes a discriminating test, however, as one cannot developed a relevant and/or appropriate dissolution test at present, thus one cannot develop discriminating test as well.
On the other hand, if you like to work with some modified version of a dissolution tester, developed in-house or as I have suggested one (with crescent-shape spindle), then there is a possibility of conducting appropriate and relevant dissolution test, which will act as a discriminating test too. I will be happy to discuss this approach in further detail if you like to explore this further.
In the meantime, the following blog article may be helpful in exploring the topic further (link).
As of May 29th, 2015, after 30 years of service as research scientist at Health Canada, I will be retiring. I look forward to a new phase in my career with great excitement. If I could be of any assistance, please do not hesitate to contact me by email: moderator@drug-dissolution-testing.com; Tel: +1 613-797-9815 1 613-797-9815
1 613-797-9815 (cell)
Sincerely
Saeed A. Qureshi, Ph.D.
To cite a post from this blog, you may use the following format which is in the Harvard Referencing Style:
"Saeed A. Qureshi. (2010). Determining blood concentration-time (C-t) profiles from in vitro dissolution results and product evaluation–carbamazepine. Available: http://www.drug-dissolution-testing.com/blog/blood%20levels%20carbamazepine.pdf. Last accessed 25h Jan 2010."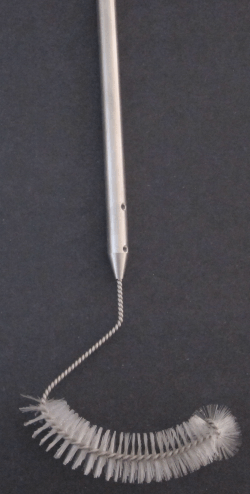 A New Crescent-shaped Spindle for Drug Dissolution Testing—But Why a New Spindle? (Link).
Crescent-shape spindle: Facts sheet (Link)
Advantages of using the crescent shape spindles for drug dissolution testing (Link)
The following links are for the short video clips demonstrating comparative operations of the paddle and the crescent-shape spindles.
Using a disintegrating tablet: Paddle and Crescent-shape spindle
Using a non-disintegrating tablet: Paddle and Crescent-shape spindle
Note: Dimensions may appear slightly distorted
On-site training/demonstration can be arranged. Post-graduate/doctoral fellows who are interested in using the crescent-shaped spindles for their on-going research projects may request samples.
For further information and purchase inquiries please contact by sending an email to (sales@pharmacomechanics.com) or call at: 1-613-797-9815.