As of May 29th, 2015, after 30 years of service as research scientist at Health Canada, I will be retiring. I look forward to a new phase in my career with great excitement. If I could be of any assistance, please do not hesitate to contact me by email: moderator@drug-dissolution-testing.com; Tel: +1 613-797-9815 1 613-797-9815
1 613-797-9815 (cell)
Sincerely
Saeed A. Qureshi, Ph.D.
To cite a post from this blog, you may use the following format which is in the Harvard Referencing Style:
"Saeed A. Qureshi. (2010). Determining blood concentration-time (C-t) profiles from in vitro dissolution results and product evaluation–carbamazepine. Available: http://www.drug-dissolution-testing.com/blog/blood%20levels%20carbamazepine.pdf. Last accessed 25h Jan 2010."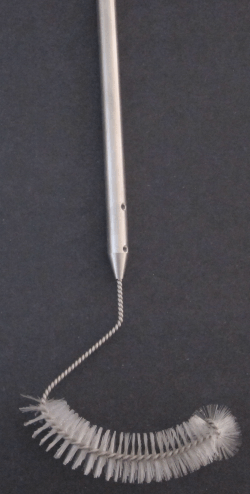 A New Crescent-shaped Spindle for Drug Dissolution Testing—But Why a New Spindle? (Link).
Crescent-shape spindle: Facts sheet (Link)
Advantages of using the crescent shape spindles for drug dissolution testing (Link)
The following links are for the short video clips demonstrating comparative operations of the paddle and the crescent-shape spindles.
Using a disintegrating tablet: Paddle and Crescent-shape spindle
Using a non-disintegrating tablet: Paddle and Crescent-shape spindle
Note: Dimensions may appear slightly distorted
On-site training/demonstration can be arranged. Post-graduate/doctoral fellows who are interested in using the crescent-shaped spindles for their on-going research projects may request samples.
For further information and purchase inquiries please contact by sending an email to (sales@pharmacomechanics.com) or call at: 1-613-797-9815.